DIVE WITH THE 
BEST
IN AQABA!
The Gulf of Aqaba is waiting for you
We are a full service dive center located in Aqaba, Jordan. Whether you want to do fun dives or do a PADI Dive Course, we are ready to serve you. Our dive center is conveniently located downtown. We are equipped with new equipment. Our priority is to ensure you have a fun, safe, enjoyable, and memorable experience. 
Already a certified diver? Join me on a fun dive to some of the best sites in the Gulf of Aqaba! There are over 20 sites to choose from and many are easily accessed from the shore. You are sure to have a fun and safe experience with me.
I'm a PADI Master Scuba Dive Instructor and truly enjoy teaching others how to dive. Not sure you want to be certified? Try a Discover Scuba Diving course. Ready to get certified? Let me assist you! Most courses can be completed in 2 – 3 days. Advanced courses take longer.
If you are going to be in Aqaba and want to do a lot of diving, then I have many dive packages for you to choose from. Take a look at all I offer and then contact me to reserve your spot. 
We have over 20 sites available here in Aqaba and the majority of them are accessed from shore. Diving is easy and not too deep. Some of the most well known sites are the Cedar Pride, the Hercules C-130, Japanese Gardens, and Seven Sisters. Some of the most hearty corals grow here. The colorful soft corals and hearty hard corals are amazing. 
Underwater photographers especially enjoy getting shots of our macro life as well as the huge scuttles we have. In 2019 two new sites were created: the TriStar and the Underwater Military Museum. The museum consists of 30 miliatry relics such as tanks, an ambulance, a military crane, troop carrier, and even helicopters! These artificial reefs help to protect and boost marine life along the 23 kms of our coastline.
The waters in the Gulf range from 21- 27 celcius (72 – 81 farenheit). The waters are quite clear with visibility ranging from 20 to 60 m (66 – 197 ft). 
Warm, crystal clear waters. What are you waiting for? Come dive with us!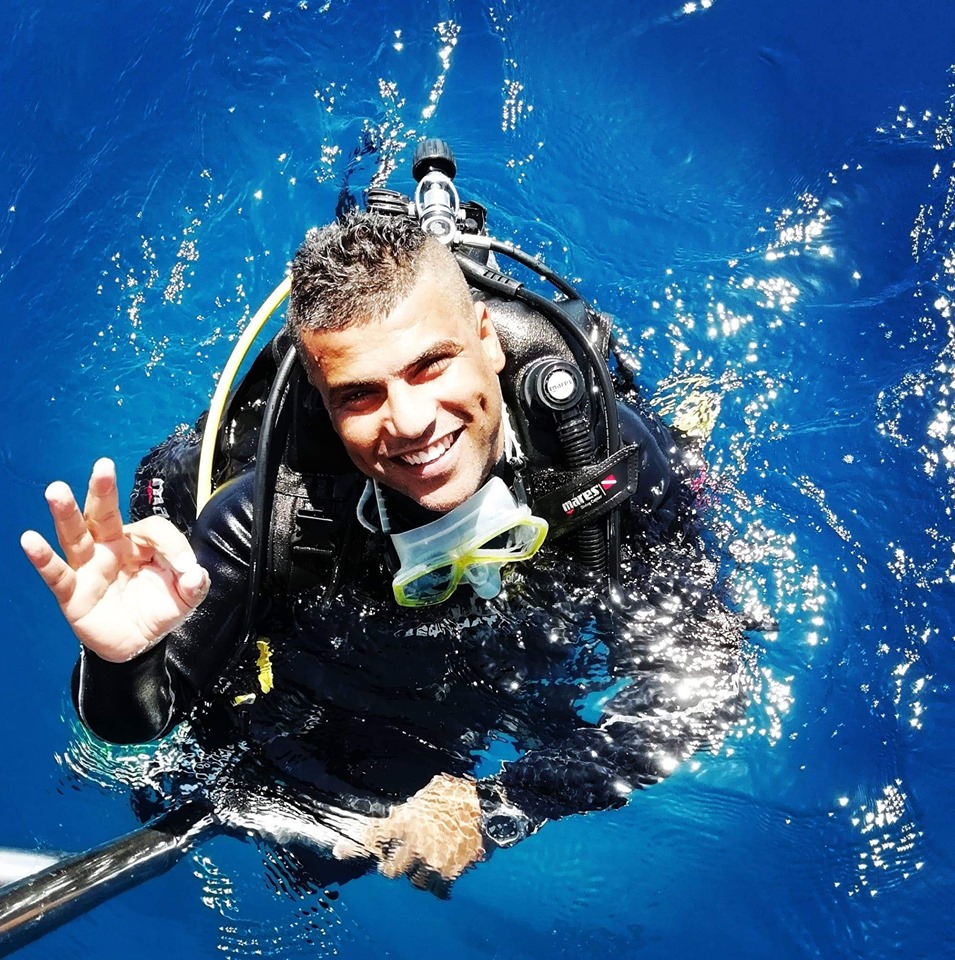 I'm Hamza Sbeihat, the owner of Petra Divers. I've been diving in Aqaba since 1999. I earned my PADI Master Scuba Diving Instructor and Emergency First Response Instructor in 2005. I've had the pleasure of working for several dive operations here but recently started Petra Divers. I'm an active member in the Aqaba Dive Association and have a passion for diving and for showing others the beautiful underwater world of the Gulf of Aqaba. My goal is to provide safe, professional, and fun diving experiences in the Gulf of Aqaba.
Please don't hesitate to contact us with any questions you may have about dive packages, courses, or anything else. 
Copyright © 2023 Petra Divers | Powered by Petra Divers